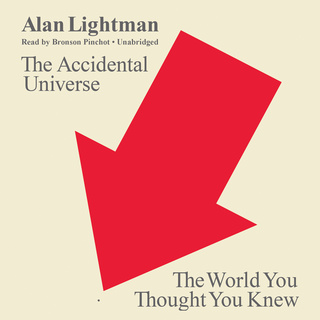 The Accidental Universe
Format:
Beschikbaar als audioboek
The Accidental Universe
Format:
Beschikbaar als audioboek
From the acclaimed author of Einstein's Dreams and Mr. g comes a meditation on the unexpected ways in which recent scientific findings have shaped our understanding of ourselves and our place in the cosmos.

With all the passion, curiosity, and precise yet lyrical prose that have marked his previous books, Alan Lightman here explores the emotional and philosophical questions raised by discoveries in science, focusing most intently on the human condition and the needs of humankind. He looks at the difficult dialogue between science and religion, the conflict between our human desire for permanence and the impermanence of nature, the possibility that our universe is simply an accident, the manner in which modern technology has separated us from direct experience of the world, and our resistance to the view that our bodies and minds can be explained by scientific logic and laws. And behind all of these considerations is the suggestion—at once haunting and exhilarating—that what we see and understand of the world is only a tiny piece of the extraordinary, perhaps unfathomable whole.
Meer info over het audioboek:
Altijd een goed boek bij je – luister waar en wanneer je wilt
Luister naar zoveel boeken als je maar wilt! Bewaar onbeperkt boeken offline zodat je ook zonder internet kunt luisteren. Probeer eens die nieuwe thriller en als die niet bevalt, probeer gewoon een ander boek! Met Storytel heb je altijd duizenden verhalen bij je.
Maak hier je account aan