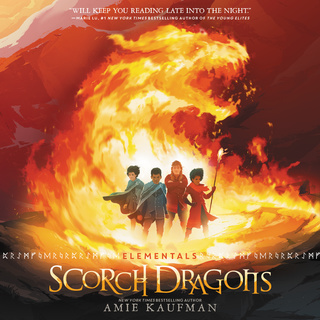 Elementals: Scorch Dragons
Elementals: Scorch Dragons
The struggle for power heats up in book two of this heart-stopping adventure series about siblings with magical shapeshifter powers, from New York Times bestselling author Amie Kaufman.

After the fateful battle between the ice wolves and the scorch dragons, Anders and his twin sister, Rayna, have been reunited. But there's no time to celebrate.

The temperature all over Vallen is starting to drop. And Anders quickly learns that the wolves have stolen a weather-altering artifact called the Snowstone, and every dragon, including Rayna, is now in danger. Desperate to broker peace, Anders enlists the help of a few new flame-breathing friends to stop the wolves' next plan of attack.

Together, these former rivals must go on a dangerous quest to find the scattered pieces of the Sun Scepter, the only artifact that can counteract the Snowstone. Because if either device goes unchecked, all hope for a truce will be lost.
Meer info over het luisterboek:
Altijd een goed boek bij je – luister waar en wanneer je wilt
Luister naar zoveel boeken als je maar wilt! Bewaar onbeperkt boeken offline zodat je ook zonder internet kunt luisteren. Probeer eens die nieuwe thriller en als die niet bevalt, probeer gewoon een ander boek! Met Storytel heb je altijd duizenden verhalen bij je.
Maak hier je account aan