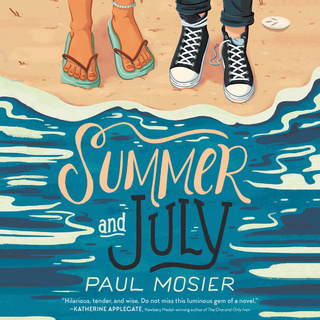 Summer and July
Format:
Beschikbaar als audioboek
Summer and July
Format:
Beschikbaar als audioboek
From the critically acclaimed author of Train I Ride and Echo's Sister comes a moving story of friendship between two girls looking for some happiness in a world that can be a little cruel. Perfect for fans of Rebecca Stead, Ali Standish, and Erin Entrada Kelly.

Twelve-year-old Juillet is preparing for the worst summer ever. She and her mom are staying in the seaside neighborhood of Ocean Park, California, for a month, where her mom will be working at the local hospital and Juillet will be on her own, like always.

Her dad is off in Europe with his new girlfriend, and her best friend, Fern … well, Juiller isn't allowed to talk to Fern anymore. Fern took the blame for Juillet's goth-girl clothes and "not-real" fears, like sharks and rip currents and the number three.

Then Juillet meets Summer, a local surfer girl who knows the coolest people and places around town. With free-spirited and adventurous Summer, Juillet begins to come out of her shell and face the things weighing her down. But when Summer reveals her own painful secret, it's Juillet's turn to be the strong and supportive friend.
Meer info over het audioboek:
Altijd een goed boek bij je – luister waar en wanneer je wilt
Luister naar zoveel boeken als je maar wilt! Bewaar onbeperkt boeken offline zodat je ook zonder internet kunt luisteren. Probeer eens die nieuwe thriller en als die niet bevalt, probeer gewoon een ander boek! Met Storytel heb je altijd duizenden verhalen bij je.
Maak hier je account aan