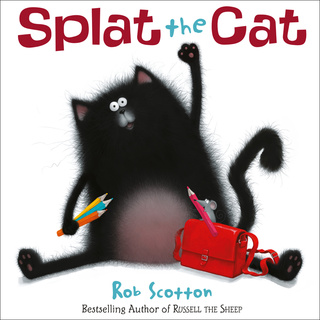 Splat The Cat
Format:
Beschikbaar als audioboek
Splat The Cat
Format:
Beschikbaar als audioboek
READ BY ANTHONY HEAD. Meet Splat the Cat! An irresistible new character from Rob Scotton, bestselling creator of Russell the Sheep

READ BY ANTHONY HEAD. It's Splat the Cat's first day of school and he's worried. What if he doesn't make any new friends? Just in case, Splat decides to bring along his pet mouse, Seymour, and hides him in his lunch box.

The teacher, Mrs Wimpydimple, introduces Splat to the class and he soon starts learning all his important cat lessons. But when Seymour escapes and the cats do what cats do (they chase mice!), Splat's worried again. Maybe now he'll lose all his friends, old and new! Just in time, wise Mrs Wimpydimple takes charge and teaches everyone an important new lesson…

Maybe Cat School is going to be ok after all!
Meer info over het audioboek:
Altijd een goed boek bij je – luister waar en wanneer je wilt
Luister naar zoveel boeken als je maar wilt! Bewaar onbeperkt boeken offline zodat je ook zonder internet kunt luisteren. Probeer eens die nieuwe thriller en als die niet bevalt, probeer gewoon een ander boek! Met Storytel heb je altijd duizenden verhalen bij je.
Maak hier je account aan