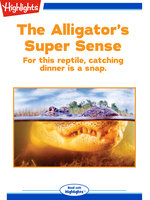 The Alligator's Super Sense
0.0
0
5
Schrijver: Ana Maria Rodriguez
Beschikbaar als e-book.
Dr. Daphne Soares conducts research and experiments to solve the mystery of the black bumps on alligators' faces.
Taal: Engels
Categorie:

Kinderen
Vertaler:
Altijd een goed boek bij je – luister waar en wanneer je wilt
Luister naar zoveel boeken als je maar wilt! Bewaar onbeperkt boeken offline zodat je ook zonder internet kunt luisteren. Probeer eens die nieuwe thriller en als die niet bevalt, probeer gewoon een ander boek! Met Storytel heb je altijd duizenden verhalen bij je.
Maak hier je account aan