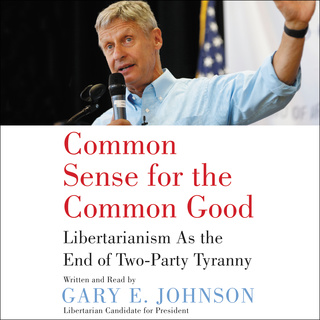 Common Sense for the Common Good
Format:
Beschikbaar als audioboek
Common Sense for the Common Good
Format:
Beschikbaar als audioboek
With the contentious 2016 U.S. presidential election cycle spinning into its final phases, only one thing seems clear: the American people are less than satisfied with the two major political parties' candidates.

Gary Johnson, Libertarian Party candidate for president and former two-term Republican governor of New Mexico, stakes his claim to the very center of the political spectrum. His new audiobook Common Sense for the Common Good offers his approach to how a member of a third party, acting as the Chief Arbiter of the U.S., can restore sanity and functionality to the highest office in the land.

Johnson succinctly shares his views on how the two-party system is dysfunctional. How its binary approach to issues doesn't reflect the multiplicity of viewpoints inherent in our contemporary society. How the nasty divisiveness that rules public and private discourse is endemic to this flawed and outdated system.

He offers his alternative to the dualistic electoral process—and why he believes the on/off, black/white, I'm right/you're wrong thinking—cripples our minds and grinds government to a halt.

He takes on the challenge of explaining Libertarianism as a philosophy that espouses:
Freedom of choiceLimited government intrusion into our personal livesFree market capitalismEqualizing opportunity for all
This audiobook sets the stage for Johnson's forthcoming book, which is part memoir and part manifesto. Here, Gary Johnson describes his own personal and political evolution. He firmly believes that, if the rigged electoral polling and debate processes were fair, the vast majority of Americans would come to understand that their beliefs and values are best represented by the Libertarian Party.
Meer info over het audioboek:
Altijd een goed boek bij je – luister waar en wanneer je wilt
Luister naar zoveel boeken als je maar wilt! Bewaar onbeperkt boeken offline zodat je ook zonder internet kunt luisteren. Probeer eens die nieuwe thriller en als die niet bevalt, probeer gewoon een ander boek! Met Storytel heb je altijd duizenden verhalen bij je.
Maak hier je account aan