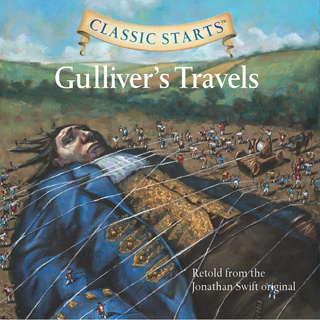 Gulliver's Travels
Format:
Beschikbaar als audioboek
Gulliver's Travels
Format:
Beschikbaar als audioboek
Following Sterling's spectacularly successful launch of its children's classic novels (240,000 books in print to date),comes a dazzling new series: Classic Starts. The stories are unabridged and have been rewritten for younger audiences. Classic Starts treats the world's beloved tales (and children) with the respect they deserve.

Through the eyes of Lemuel Gulliver, Swift's unforgettable satire takes readers into worlds formerly unimagined. Visit four strange and remarkable lands: Lilliput, where Gulliver seems a giant among a race of tiny people; Brobdingnag, the opposite, where the natives are giants and Gulliver puny; the ruined yet magical country of Laputa; and the home of the Houyhnhnms, gentle horses far superior to the ugly humanoid Yahoos who share their universe.
Meer info over het audioboek:
Altijd een goed boek bij je – luister waar en wanneer je wilt
Luister naar zoveel boeken als je maar wilt! Bewaar onbeperkt boeken offline zodat je ook zonder internet kunt luisteren. Probeer eens die nieuwe thriller en als die niet bevalt, probeer gewoon een ander boek! Met Storytel heb je altijd duizenden verhalen bij je.
Maak hier je account aan