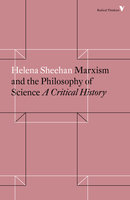 Marxism and the Philosophy of Science
0
0
5
Autor:

Helena Sheehan
E-book.
A masterful survey of the history of Marxist philosophy of science. Now with a new afterword.
Język: Angielski
Kategoria:

Literatura Faktu
Tłumaczenie:
Wydawca: Verso
Data wydania: 2017-12-01
ISBN: 9781786634283
Miej zawsze dobrą książkę pod ręką - słuchaj i czytaj bez ograniczeń
Czytaj i słuchaj do woli. W streamingu lub offline. Wybierz książkę dla siebie lub dziecka. Słuchaj na telefonie lub tablecie.
ZAŁÓŻ KONTO