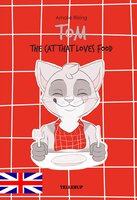 Tom - The Cat That Loves Food
3,95
66
5
Autor:

Amalie Riising
E-book.
Tom is a cat that loves any kind of food – except cat food.
Język: Angielski
Kategoria:

Dla dzieci
Tłumaczenie: Michael E.N. Larsen
Wydawca: Tellerup.dk
Data wydania: 2017-05-08
ISBN: 9788758827698
Miej zawsze dobrą książkę pod ręką - słuchaj i czytaj bez ograniczeń
Czytaj i słuchaj do woli. W streamingu lub offline. Wybierz książkę dla siebie lub dziecka. Słuchaj na telefonie lub tablecie.
ZAŁÓŻ KONTO