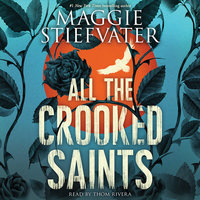 All the Crooked Saints
3.5283018867924527
53
5
Autor: Maggie Stiefvater
Czyta: Thom Rivera
Audiobook.
From bestselling author Maggie Stiefvater, a gripping tale of darkness, miracles, and family. Saints. Miracles. Family. A3:BB526 Death. Redemption.
Język: Angielski
Kategoria:

Fantasy i Sci-Fi
Tłumaczenie:
Wydawca: Scholastic Audio
Data wydania: 2017-10-10
Czas trwania: 9H 9M
ISBN: 9781338230239
Miej zawsze dobrą książkę pod ręką - słuchaj i czytaj bez ograniczeń
Czytaj i słuchaj do woli. W streamingu lub offline. Wybierz książkę dla siebie lub dziecka. Słuchaj na telefonie, tablecie lub komputerze.
ZAŁÓŻ KONTO