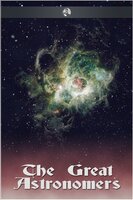 The Great Astronomers
0.0
0
5
Autor: Robert S. Ball
E-book.
A fascinating guide to some of the greatest stargazers in history, including Copernicus, Galileo, Halley, Newton, Brahe and many more.
Język: Angielski
Kategoria:

Biografia
Tłumaczenie:
Wydawca: Andrews UK
Data wydania: 2012-06-20
ISBN: 9781781668450
Miej zawsze dobrą książkę pod ręką - słuchaj i czytaj bez ograniczeń
Czytaj i słuchaj do woli. W streamingu lub offline. Wybierz książkę dla siebie lub dziecka. Słuchaj na telefonie, tablecie lub komputerze.
ZAŁÓŻ KONTO