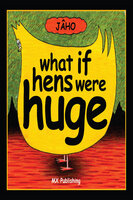 What if Hens Were Huge?
0.0
0
5
Autor: JÂHO
E-book.
Have you ever wondered what might happen if hens were huge? All the answers are in this book for children.
Język: Angielski
Kategoria:

Dla młodzieży
Tłumaczenie:
Wydawca: Andrews UK
Data wydania: 2012-05-09
ISBN: 9781780920634
Miej zawsze dobrą książkę pod ręką - słuchaj i czytaj bez ograniczeń
Czytaj i słuchaj do woli. W streamingu lub offline. Wybierz książkę dla siebie lub dziecka. Słuchaj na telefonie, tablecie lub komputerze.
ZAŁÓŻ KONTO