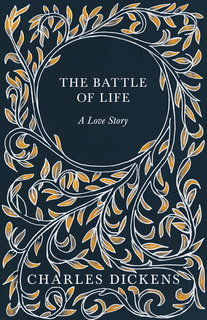 First published in 1846, Charles Dickens's novella "The Battle of Life: A Love Story" is the fourth of his five "Christmas Books", published between "The Cricket on the Hearth" and "The Haunted Man". The only of the five to not contain any supernatural or overt religious reference, it focuses on Grace and Marion, two sisters who are driven apart only to be reunited once more. Dickens's Christmas novels perfectly enraptured the spirit of the Victorian Christmas revival and even inspired a number of traditional aspects of the holiday, including seasonal food and drink, family gatherings, dancing, and more. Charles John Huffam Dickens (1812–1870) was an English writer and social critic famous for having created some of the world's most well-known fictional characters. His works became unprecedentedly popular during his life, and today he is commonly regarded as the greatest Victorian-era novelist thanks to his humour, satire, and astute observations concerning society and character. This classic work is being republished now in a new edition complete with a specially-commissioned new biography of the author.
Miej zawsze dobrą książkę pod ręką - słuchaj i czytaj bez ograniczeń
Czytaj i słuchaj do woli. W streamingu lub offline. Wybierz książkę dla siebie lub dziecka. Słuchaj na telefonie lub tablecie.
ZAŁÓŻ KONTO