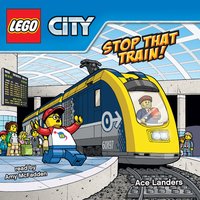 LEGO City: Stop That Train!
3,66
111
5
Autor:

Ace Landers
Czyta:

Amy McFadden
Audiobook.
There's never a dull moment in LEGO(R) City!

This audio storybook features an adventure with the newest LEGO(R) City toy sets!
Język: Angielski
Kategoria:

Dla dzieci
Tłumaczenie:
Wydawca: Scholastic
Data wydania: 2018-09-25
Czas trwania: 13M
ISBN: 9781338311143
Miej zawsze dobrą książkę pod ręką - słuchaj i czytaj bez ograniczeń
Czytaj i słuchaj do woli. W streamingu lub offline. Wybierz książkę dla siebie lub dziecka. Słuchaj na telefonie lub tablecie.
ZAŁÓŻ KONTO