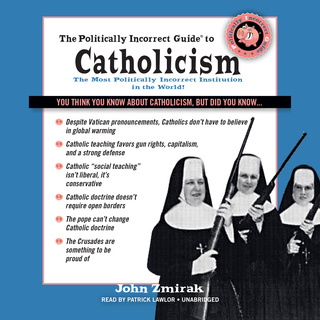 The Politically Incorrect Guide to Catholicism
The Politically Incorrect Guide to Catholicism
A brand-new installment in the beloved Politically Incorrect Guides!

The Politically Incorrect Guide to Catholicism is an honest look at the Catholic Church, including history and present controversies, from the author of the Bad Catholic's Guides.

Back by popular demand, the bestselling Politically Incorrect Guides provide an unvarnished, unapologetic overview of controversial topics every American should understand. The Politically Incorrect Guide to Catholicism refutes misrepresentations and misconceptions about the Catholic Church and separates rumor from truth when it comes to Catholic traditions, faith, and controversial leaders.
Miej zawsze dobrą książkę pod ręką - słuchaj i czytaj bez ograniczeń
Czytaj i słuchaj do woli. W streamingu lub offline. Wybierz książkę dla siebie lub dziecka. Słuchaj na telefonie lub tablecie.
ZAŁÓŻ KONTO