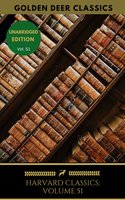 Harvard Classics Volume 51
2,44
9
5
Autor:

Golden Deer Classics, Robert Matteson Johnston, William Scott Ferguson, Murray Anthony Potter, Frederick Jackson Turner, Carleton Noyes, Charles Burton Gulick, Charles Hall Grandgent, Ernest Bernbaum, Lawrence J. Henderson, W. M. Davis, Ralph Barton Perry, Charles Pomeroy Parker, Chester Noyes Greenough, William Roscoe Thayer, W. S. Ferguson, Chandler Rathfon Post, O. M. W. Sprague, W. A. Neilson, F. N. Robinson, G. H. Maynadier, J. D. M. Ford, Bliss Perry, H. W. Holmes, Frank Wilson Cheney Hersey, A. O. Norton, Thomas Nixon Carver, Charles J. Bullock, W. B. Munro, Roscoe Pound, George Pierce Baker, Kuno Francke, R. B. Dixon, George H. Chase, C. R. Lanman, Alfred Dwight Sheffield, Clifford Herschel Moore, C. H. C. Wright
E-book.
Volume 51 contains a total of 60 lectures covering 12 topics:
History
Poetry
Natural Science
Philosophy
Biography
Prose Fiction
Criticism and the Essay
Education
Political Science
Drama
Voyages and Travels
Religion
Język: Angielski
Kategoria:

Klasyka
Tłumaczenie:
Miej zawsze dobrą książkę pod ręką - słuchaj i czytaj bez ograniczeń
Czytaj i słuchaj do woli. W streamingu lub offline. Wybierz książkę dla siebie lub dziecka. Słuchaj na telefonie lub tablecie.
ZAŁÓŻ KONTO