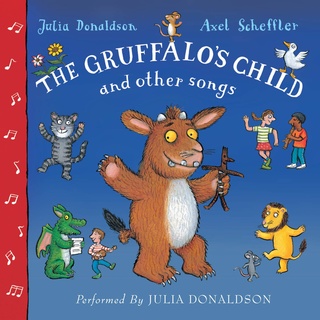 The Gruffalo's Child Song and Other Songs
The Gruffalo's Child Song and Other Songs
Created by star pairing Axel Scheffler and Julia Donaldson, the Gruffalo's Child returns with her very own song to introduce a truly monster musical session!

As well as being the UK's most successful picture book author and the 2011-2013 Children's Laureate, Julia Donaldson is a gifted songwriter for children. The Gruffalo's Child Song and Other Songs contains nine of her best-loved songs, including The Gruffalo's Child, Nut Tree and The World Inside a Book, as well as a number of other fun-filled action songs, all of which have been wonderfully illustrated by Axel Scheffler. Each score includes piano accompaniment and guitar chords. The songs will be familiar to anyone who has heard them on TV or radio, or enjoyed one of Julia's live performances.
Miej zawsze dobrą książkę pod ręką - słuchaj i czytaj bez ograniczeń
Czytaj i słuchaj do woli. W streamingu lub offline. Wybierz książkę dla siebie lub dziecka. Słuchaj na telefonie lub tablecie.
ZAŁÓŻ KONTO