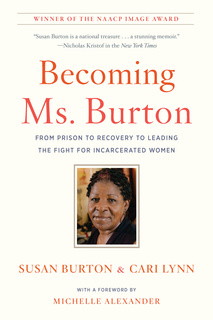 Significant media/awards for the hardcover edition: The hardcover edition received significant national print and broadcast attention, from Nicholas Kristof in the New York Times (who is likely to write again about the prison paperback edition), Publishers Weekly, Kirkus, Library Journal, Booklist, Democracy Now!, the Daily Show, The Tavis Smiley Show, NPR's Fresh Air and Marketplace. It won the Goddard Riverside Social Justice Book Prize and the NAACP Image Award. The trade paperback edition will benefit from publicity around a special paperback edition being distributed free to incarcerated people in every state in 2018 (as featured in Publishers Weekly and Inside Bookselling).

Continued promotion, tied to the author's nation-wide activism: Susan Burton tirelessly promotes the book and connects it to her ongoing advocacy work across the country, which involves talks at prisons, book talks, and high-profile speaking engagements as well as community- and school-wide reads.

Growing concern about criminal justice reform: Thanks in part to the extraordinary success of The New Jim Crow, criminal justice reform and ending mass incarceration are central policy issues in every state and Susan Burton is a leading figure in these struggles.
Ljudböcker och e-böcker för alla tillfällen.
När du börjar med Storytel får du allt. Du njuter obegränsat av hur många ljudböcker och stories du vill. Vi fyller på med nytt varje dag och du kan lyssna och läsa offline precis när det passar dig.
Starta 14 dagar gratis