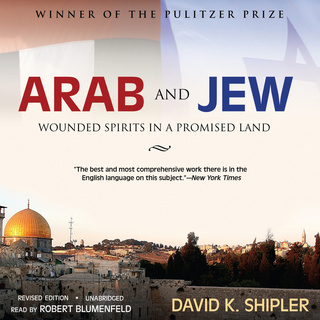 Arab and Jew
Format:
Finns som ljudbok
Arab and Jew
Format:
Finns som ljudbok
Arab stereotype portrays the Jew as a brutal, violent coward. The Jewish stereotype portrays the Arab as a primitive creature of animal vengeance and cruel desires. In this monumental Pulitzer Prize–winning work, revised in 2002, David Shipler delves into the origins of these prejudices that have been intensified by war, terrorism, and nationalism.

Shipler examines the process of indoctrination that begins in schools, the far-ranging effects of socioeconomic differences, and the historical conflicts between Islam and Judaism. And he writes of the people: the Arab woman in love with a Jew; the retired Israeli military officer; the Palestinian guerrilla; the handsome actor whose father is Arab and mother is Jewish. Their stories reflect not only the reality of wounded spirits, but also a glimmer of hope for eventual coexistence in the Promised Land.
Ljudböcker och e-böcker för alla tillfällen.
När du börjar med Storytel får du allt. Du njuter obegränsat av hur många ljudböcker och stories du vill. Vi fyller på med nytt varje dag och du kan lyssna och läsa offline precis när det passar dig.
Starta 14 dagar gratis