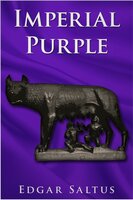 Imperial Purple
0.0
0
5
Författare: Edgar Saltus
Finns som e-bok.
A fascinating collection of writings by the eminent prose writer Edgar Saltus about Ancient Rome.
Språk: Engelska
Kategori:

Historia
Översättare:
Mer info om e-boken:
Förlag: Andrews UK
Utgiven: 2012-06-15
ISBN: 9781781666357
Ha alltid en bra bok på gång – lyssna och läs på dina egna villkor
Läs och lyssna på så många böcker du orkar! Ladda ner böcker offline, välj sagor till barnen eller prova en bok du inte visste att du ville höra. Helt enkelt den bästa digitala bokupplevelsen du kan få.
Prova fritt i 14 dagar