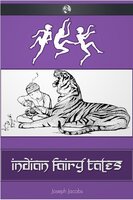 Indian Fairy Tales
4.5
2
5
Författare: Joseph Jacobs
Finns som e-bok.
A classic collection of fantastic fairy tales drawn from the rich folklore of India and its neighbour countries.
Språk: Engelska
Kategori:

Fantasy & SciFi
Översättare:
Mer info om e-boken:
Förlag: Andrews UK
Utgiven: 2012-06-15
ISBN: 9781781666371
Ha alltid en bra bok på gång – lyssna och läs som du vill
Läs och lyssna på så många böcker du orkar! Ladda ner böcker offline, välj sagor till barnen eller prova en bok du inte visste att du ville höra. Helt enkelt den bästa digitala bokupplevelsen du kan få.
Prova fritt i 14 dagar