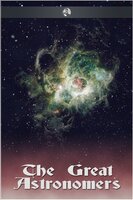 The Great Astronomers
0.0
0
5
Författare: Robert S. Ball
Finns som e-bok.
A fascinating guide to some of the greatest stargazers in history, including Copernicus, Galileo, Halley, Newton, Brahe and many more.
Språk: Engelska
Kategori:

Biografier
Översättare:
Mer info om e-boken:
Förlag: Andrews UK
Utgiven: 2012-06-20
ISBN: 9781781668450
Ha alltid en bra bok på gång – lyssna och läs på dina egna villkor
Läs och lyssna på så många böcker du orkar! Ladda ner böcker offline, välj sagor till barnen eller prova en bok du inte visste att du ville höra. Helt enkelt den bästa digitala bokupplevelsen du kan få.
Prova fritt i 14 dagar