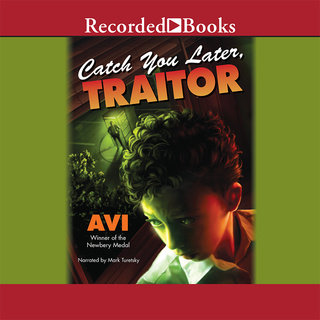 Catch You Later, Traitor
Format:
Finns som ljudbok
Catch You Later, Traitor
Format:
Finns som ljudbok
From Newbery Medalist Avi comes the thrilling and suspenseful story of an ordinary American family who fall under suspicion. It's 1951, and twelve-year-old Pete Collison is a regular kid in Brooklyn, New York, who loves Sam Spade detective books and radio crime dramas. But when an FBI agent shows up at Pete's doorstep, accusing Pete's father of being a Communist, Pete is caught in a real-life mystery. Could there really be Commies in Pete's family? As Pete follows the quickly accumulating clues, he begins to wonder if the truth could put his family's livelihood--and even their freedom--at risk. In the tradition of "Who Was That Masked Man, Anyway?, Don't You Know There's a War On?, "and "Nothing But the Truth, Catch You Later, Traitor" tells a funny, insightful story packed with realistic period detail of a boy in mid-twentieth-century America whose family is caught in the wide net of America's Red Scare.
Ljudböcker och e-böcker för alla tillfällen.
När du börjar med Storytel får du allt. Du njuter obegränsat av hur många ljudböcker och stories du vill. Vi fyller på med nytt varje dag och du kan lyssna och läsa offline precis när det passar dig.
Starta 14 dagar gratis