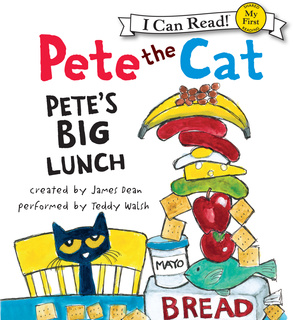 Pete the Cat: Pete's Big Lunch
Pete the Cat: Pete's Big Lunch
New York Times bestselling author and artist James Dean brings young readers a lunchtime treat!

Pete the Cat makes one giant, tasty sandwich for lunch. But what's the fun in eating lunch without your friends? Pete the Cat fans will enjoy Pete's funny food creativity and Pete's joy in sharing with friends.

Pete the Cat: Pete's Big Lunch is a My First I Can Read book, which means it's perfect for shared reading with a child.
More information about the audiobook:
Discover Singapore's largest library of audiobooks and e-books available through unlimited subscription
Read and listen to as many books as you like! Download books offline, listen to several books simultaneously, switch to kids mode, or try out a book that you never thought you would. Discover the best book experience you'd ever have.
Start your 14 days free trial