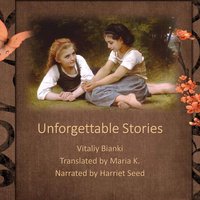 Unforgettable stories
2
1
5
Author:

Vitaliy Bianki
Narrator:

Harriet Seed
Audiobook.
A set of fascinating tales on various aspects of nature - ruthless, strange, puzzling, yet invariably beautiful and captivating.
Language: English
Category:

Short stories
Translator:
More information about the audiobook:
Publisher: TSK Group LLC
Published: 2020-02-06
Length: 1H 10Min
ISBN: 9781518912047
Discover Singapore's largest library of audiobooks and e-books available through unlimited subscription
Read and listen to as many books as you like! Download books offline, listen to several books simultaneously, switch to kids mode, or try out a book that you never thought you would. Discover the best book experience you'd ever have.
Start your 14 days free trial