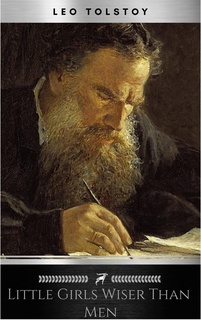 Little Girls Wiser Than Men
Little Girls Wiser Than Men
'Little Girls Wiser Than Men' is a short story by Russian author Leo Tolstoy first published in 1885. It takes the form of a parable about forgiveness. The story opens at the beginning of Holy Week, when there was still melting snow on the ground. An older girl, Akulya, and a younger girl, Malasha, go outside to play. They both have just been given new frocks, but they insist on wading through one of the puddles from the melting snow. They both take off their shoes to keep them dry, and Akulya warns Malasha against splashing the water on her new frock. Malasha splashes Akulya despite her warning, and Akulya runs home in tears. Her mother is furious at the ruined frock, and she spanks Malasha in the middle of the street. Soon Malasha's mother emerges from her home, and the mothers begin arguing. The shouts brought the peasants into the street, who also begin arguing with each other. The peasants start pushing each other, and Akulka's grandmother urges everyone to stop, but to no avail.
Meer info over het e-book:
Altijd een goed boek bij je – luister waar en wanneer je wilt
Luister naar zoveel boeken als je maar wilt! Bewaar onbeperkt boeken offline zodat je ook zonder internet kunt luisteren. Probeer eens die nieuwe thriller en als die niet bevalt, probeer gewoon een ander boek! Met Storytel heb je altijd duizenden verhalen bij je.
Maak hier je account aan