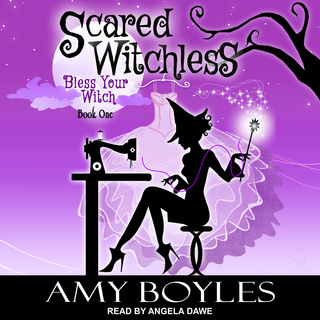 Dylan Apel is having one heck of a summer. She knows her hand-made clothing is special, but magical? Discovering that she's a witch is bad enough, but when Dylan realizes there are folks who'll kill to possess her witchy powers- that's enough to make a girl want to hide out in the back of her boutique. The only problem is, Queen Witch is in town, itchin' to make sure Dylan learns to cast spells, and this witch won't take no for an answer.

Dylan must learn fast-someone just killed her best client with a poisoned gown meant for Dylan. Was it the tall, mysterious hottie in black, who's suddenly everywhere she goes? After all, the first thing Roman Bane says is he doesn't like witches. Is he here to save her, or kill her?

Dylan is barely getting a handle on her new powers when she finds herself surrounded by witches bossing her this way and that, local police nosing about, and wary clients-death by clothing is not good for business. And the solstice is coming . . . a time when witch powers are at their peak. Can Dylan survive the chaos long enough to figure out her new life?
Meiri upplýsingar um hljóðbókina:
Hafðu alltaf góða bók við höndina - hlustaðu og lestu hvar og hvenær sem er
Lestu og hlustaðu á eins margar bækur og þú vilt! Vistaðu bækurnar á tækið fyrir ferðalögin, hlustaðu til skiptis á aðrar bækur, veldu sögur fyrir börnin þín og finndu næstu uppáhalds bókina þína. Með Storytel ertu ávallt með heilt bókasafn í vasanum.
Prófaðu frítt í 14 daga