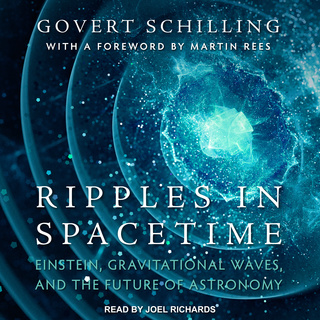 Ripples in Spacetime: Einstein, Gravitational Waves, and the Future of Astronomy
Ripples in Spacetime: Einstein, Gravitational Waves, and the Future of Astronomy
Ripples in Spacetime is an engaging account of the international effort to complete Einstein's project, capture his elusive ripples, and launch an era of gravitational-wave astronomy that promises to explain, more vividly than ever before, our universe's structure and origin.

The quest for gravitational waves involved years of risky research and many personal and professional struggles that threatened to derail one of the world's largest scientific endeavors. Govert Schilling takes listeners to sites where these stories unfolded-including Japan's KAGRA detector, Chile's Atacama Cosmology Telescope, the South Pole's BICEP detectors, and the United States' LIGO labs. He explains the seeming impossibility of developing technologies sensitive enough to detect waves from two colliding black holes in the very distant universe, and describes the astounding precision of the LIGO detectors. Along the way Schilling clarifies concepts such as general relativity, neutron stars, and the big bang using language that listeners with little scientific background can grasp.
Meer info over het luisterboek:
Altijd een goed boek bij je – luister waar en wanneer je wilt
Luister naar zoveel boeken als je maar wilt! Bewaar onbeperkt boeken offline zodat je ook zonder internet kunt luisteren. Probeer eens die nieuwe thriller en als die niet bevalt, probeer gewoon een ander boek! Met Storytel heb je altijd duizenden verhalen bij je.
Maak hier je account aan