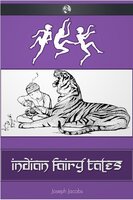 Indian Fairy Tales
4,5
2
5
Autor:

Joseph Jacobs
E-book.
A classic collection of fantastic fairy tales drawn from the rich folklore of India and its neighbour countries.
Język: Angielski
Kategoria:

Fantasy i Sci-Fi
Tłumaczenie:
Wydawca: Andrews UK
Data wydania: 2012-06-15
ISBN: 9781781666371
Miej zawsze dobrą książkę pod ręką - słuchaj i czytaj bez ograniczeń
Czytaj i słuchaj do woli. W streamingu lub offline. Wybierz książkę dla siebie lub dziecka. Słuchaj na telefonie lub tablecie.
ZAŁÓŻ KONTO