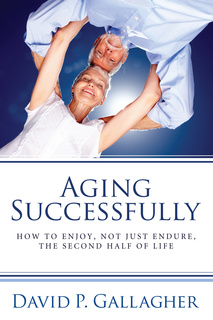 Aging Successfully offers suggestions for greater satisfaction and happiness for people over age fifty. It raises spiritual and emotional issues such as how to deal with depression and gives specific action steps. This book is packed full of practical help; it is a road map for aging, especially during economically challenging days. This practical, easy-to-read book provides wisdom and time-tested counsel for a happy and highly productive second half of life. When Dave Gallagher was considering retirement, he wanted help with financial planning and retirement living options, so he began compiling resources. Dr. Gallagher combines the information he gained with principles that he gained in working with hundreds of people over the years, and compiled them into this book. The principles come from personal experience, research, and helping people age successfully. The author draws from his experience of ten years as senior pastor in an age-restricted community designed to reach people over age fifty.
Ljudböcker och e-böcker för alla tillfällen.
När du börjar med Storytel får du allt. Du njuter obegränsat av hur många ljudböcker och stories du vill. Vi fyller på med nytt varje dag och du kan lyssna och läsa offline precis när det passar dig.
Starta 14 dagar gratis