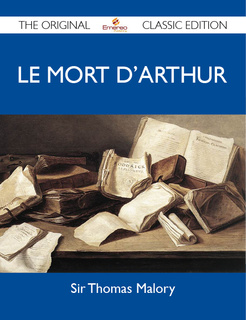 Le Mort d'Arthur - The Original Classic Edition
Le Mort d'Arthur - The Original Classic Edition
LE MORT D'ARTHUR (The Death of Arthur) was written by Sir Thomas Malory while he was imprisoned for some number of years. It was one of the very first times that the Arthurian legend was penned in English. There were some older Latin fragments of the myth floating around, but its thru Malorys account by which we know the stories most thoroughly. The most successful movie adaptation of the legend, EXCALIBUR, is based on elements taken from Malorys epic.

This is an ABSOLUTE must-read for all persons who have even a remote interest in the Arthurian fantasy. The book contains all of the most famous characters and episodes from the legend.

Within these pages, one will encounter Arthur, Gwynevere, Sir Launcelot, Sir Galahad, Sir Modred, Sir Bors, Sir Percivale, Merlin and all the rest. The purity of Galahad is contrasted with the sinful nature and temporary madness of Launcelot. The memorable allegory of Sir Percivales duel with Satan, as well as so many other knightly adventures, are all recorded for us here.

This book is highly recommended to all fans of medieval times, medieval literature, the history of Great Britain and the idea of Chivalry. The codes of honor, the rules of fair play and the heroic ideals conceived by the knights of the middle-ages have followed us down thru the centuries and are still as relevant to the best of us today as they were 500-1500 years ago. The story ends with one of the most memorable Latin phrases in literary history:

HIC IACET ARTHURUS, REX QUONDAM REXQUE FUTURUS

[Here lies King Arthur, the once and future King]

Now for the details, open up the book!
Ljudböcker och e-böcker för alla tillfällen.
När du börjar med Storytel får du allt. Du njuter obegränsat av hur många ljudböcker och stories du vill. Vi fyller på med nytt varje dag och du kan lyssna och läsa offline precis när det passar dig.
Starta 14 dagar gratis