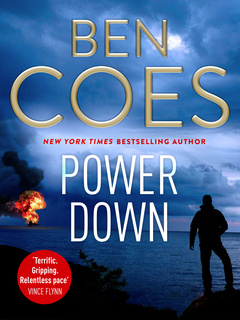 The first in the explosive and bestselling Dewey Andreas series.
The largest oil-platform in the Western Hemisphere and a major hydroelectric dam are destroyed in a coordinated terrorist attack. The West's energy supplies risk total failure.

But when the terrorists strike a rig off the coast of Colombia, slaughtering the crew and destroying the oil field, there's one factor they don't take into account: former special forces operative Dewey Andreas.

Determined to find the men behind the attack, Dewey must overcome increasingly deadly assaults as he follows the trail of operatives sent to take him down. Can Dewey save the people and the country he loves before it's too late?

A gripping thriller perfect for fans of Lee Child and J.B. Turner.
Praise for Power Down
'A gripping story, compelling characters, a relentless pace, and nerve-wracking suspense' Vince Flynn, New York Times bestselling author of Pursuit of Honor

'Breathtaking ... I was blown away' David Morrell, New York Times bestselling author of Creepers and creator of Rambo

'Thrillers don't get any better' Stephen Coonts, New York Times bestselling author of The Disciple
Ljudböcker och e-böcker för alla tillfällen.
När du börjar med Storytel får du allt. Du njuter obegränsat av hur många ljudböcker och stories du vill. Vi fyller på med nytt varje dag och du kan lyssna och läsa offline precis när det passar dig.
Starta 14 dagar gratis