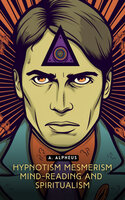 Hypnotism, Mesmerism, Mind-Reading and Spiritualism
3,6
5
5
Kirjailija:

A. Alpheus
E-kirja.
The book offers an exhaustive and practical system on use of hypnosis, methods and application.
Kieli: Englanti
Kategoria:

Henkinen kasvu
Sarja: Sacred World: 1
Alkuperäisotsikko: Hypnotism, Mesmerism, Mind-Reading and Spiritualism
Kääntäjä:
Lisätietoa e-kirjasta:
Julkaisija: Interactive Media
Julkaisuvuosi: 2016-06-20
ISBN: 9781911429968
Lue mitä, missä ja milloin haluat – täysin omilla ehdoillasi
Lue kuten haluat! Lataa rajattomasti kirjoja offline-tilaan, lueskele useampaa yhtä aikaa, valitse ihastuttavia tarinoita lapsille tai kokeile kirjaa, jota et tiennyt haluavasi kuunnella. Äänikirjat ja e-kirjat antavat lukemiselle uusia ulottuvuuksia.


Kokeile ilmaiseksi 14 päivää