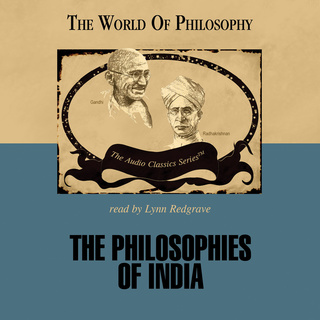 The Philosophies of India
Formaatti:
Saatavilla äänikirjana
The Philosophies of India
Formaatti:
Saatavilla äänikirjana
India has perhaps the oldest living philosophical tradition in the world. Though both Buddhism and Jainism began in India, its primary influence is the Vedic tradition. The Vedas are the fundamental Hindu scriptures and the basis of the six systems of Indian philosophy. Hindu philosophy affirms an ultimate or universal reality, but it is also individualistic, embracing many alternatives or paths to one reality. Also characteristic is the belief in reincarnation and karma, the law of moral causation.

The World of Philosophy series presents the questions, interests, and worldviews of the world's great philosophers and philosophical traditions. Special emphasis on clear and relevant explanations, in understandable language, give you a new arsenal of insights toward living a better life.
Julkaisuvuosi:
2006-03-27
Lue mitä, missä ja milloin haluat – täysin omilla ehdoillasi
Lue kuten haluat! Lataa rajattomasti kirjoja offline-tilaan, lueskele useampaa yhtä aikaa, valitse ihastuttavia tarinoita lapsille tai kokeile kirjaa, jota et tiennyt haluavasi kuunnella. Äänikirjat ja e-kirjat antavat lukemiselle uusia ulottuvuuksia.


Kokeile ilmaiseksi 14 päivää