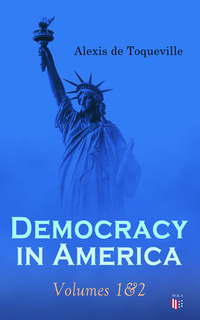 Democracy in America: Volumes 1&2
Democracy in America: Volumes 1&2
"Democracy in America" represents a world classic of the political thought which examines the democratic revolution that had taken place worldwide at the time. The main focus of this two volume book is an analysis of why republican representative democracy has succeeded in the United States. Tocqueville discuses on the future of democracy in the United States as well as possible threats and dangers to democracy.

Alexis Charles Henri Clérel, Viscount de Tocqueville (1805-1859)was a French political scientist, historian and diplomat. He was best known for his works "Democracy in America" and "The Old Regime and the Revolution". Tocqueville was active in French politics, first under the July Monarchy and then during the Second Republic which succeeded the February 1848 Revolution.
Ljudböcker och e-böcker för alla tillfällen.
När du börjar med Storytel får du allt. Du njuter obegränsat av hur många ljudböcker och stories du vill. Vi fyller på med nytt varje dag och du kan lyssna och läsa offline precis när det passar dig.
Starta 14 dagar gratis