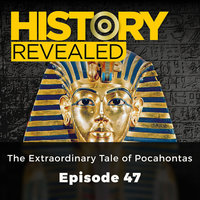 The Extraordinary Tale of Pocahontas: History Revealed, Episode 47
0.0
0
5
Författare: Various Authors
Inläsare: Una Burn
Finns som ljudbok.
On 5 April, the romanticised heroine of Hollywood movies entered into the first inter-racial marriage in American history.
Språk: Engelska
Kategori:

Historia
Översättare:
Mer info om ljudboken:
Förlag: Immediate Media
Utgiven: 2018-12-07
Längd: 7M
ISBN: 4251513984950
Ha alltid en bra bok på gång – lyssna och läs som du vill
Läs och lyssna på så många böcker du orkar! Ladda ner böcker offline, välj sagor till barnen eller prova en bok du inte visste att du ville höra. Helt enkelt den bästa digitala bokupplevelsen du kan få.
Prova fritt i 14 dagar