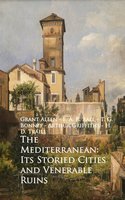 The Mediterranean: Its Storied Cities and Venerab
3
1
5
Autor:

Grant Allen, Arthur Griffiths, Robert Brown, T. G. Bonney, E. A. R. Ball, H. D. Traill
Libro electrónico.
THE PILLARS OF HERCULES,
ALGIERS,
MALAGA,
BARCELONA,
MARSEILLES,
NICE,
THE RIVIERA,
GENOA,
THE TUSCAN COAST,
VENICE,
ALEXANDRIA,
MALTA,
SICILY,
NAPLES,
Idioma: Inglés
Categoría:

Historia
Traductor:
Editorial: anboco
Publicado: 2016-08-15
ISBN: 9783736410572
¡Escucha lo que quieras cuando quieras!
Una gran variedad de contenido para escuchar a tu manera. Descarga los audiolibros en tu móvil en modo sin conexión, cambia de título tantas veces como quieras, comparte un libro con tus amigos y encuentra tu momento Storytel.
Prueba gratuita de 14 días