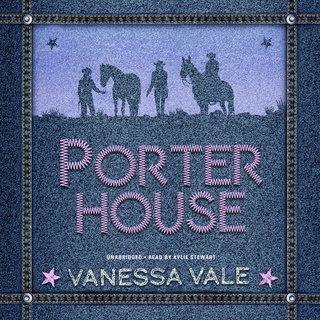 Porterhouse
Format:
As audiobook & As e-book
Porterhouse
Format:
As audiobook & As e-book
Meet—or should I say meat—Porter Duke. He serves up a large portion of big beef all alone, but he doesn't want to claim Jillian Murphy by himself. Liam Hogan has what it takes to satisfy the hungriest appetite—and their woman is insatiable.

When Jill's life is in danger, should she go to the DA and new sheriff who have stolen her heart? Or should she protect her men from the one thing that could destroy them—herself?

Remember: With a Vanessa Vale book, one cowboy is never enough. In this smokin' hot series, each heroine gets an extra helping (or two) of Grade-A Beefcake.
More information about the audiobook:
More info about the ebook
Always have a good book lined up - Listen and read whenever you want
Read and listen to as many books as you like! Download books offline, listen to several books continuously, choose stories for your kids, or try out a book that you didn't thought you would like to listen to. The best book experience you'd ever had.
Free trial for 14 days