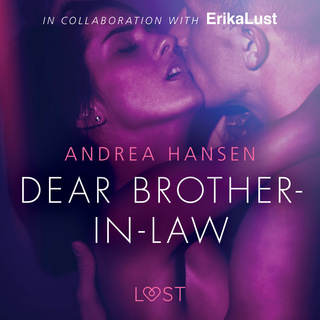 Dear Brother-in-law
Format:
As audiobook & As e-book
Dear Brother-in-law
Format:
As audiobook & As e-book
The house is silent. Jacob and I are the only two who sleep in the main building. I haven't slept in the same bed with Joel for years, because he snores. At least that's what we tell one another. I've always been a sensual person. This summer, in particular, I've been aching for touches and intimacy. There's something about Jacob. Joel's younger brother. Something firm and exciting. A spark that has not yet dwindled. A danger he has not yet learnt to respect.

This short story is published in collaboration with the Swedish filmproducer Erika Lust. Her intention is to depict human nature and diversity through stories of passion, intimacy, lust and love in a fusion of powerful stories and erotica.

Andrea Hansen writes erotic short stories and is co-writer to the Danish short story collection "Udsøgt".
Translator: Martin Reib Petersen
Always have a good book lined up - Listen and read whenever you want
Read and listen to as many books as you like! Download books offline, listen to several books continuously, choose stories for your kids, or try out a book that you didn't thought you would like to listen to. The best book experience you'd ever had.
Free trial for 14 days