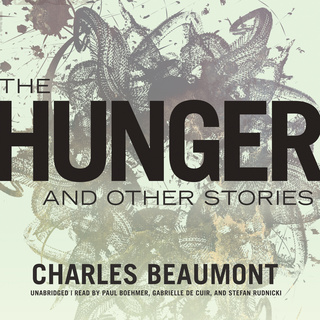 The Hunger, and Other Stories
The Hunger, and Other Stories
A collection of horror stories by the iconic Charles Beaumont

When The Hunger, and Other Stories first appeared in 1957, it heralded the arrival of Charles Beaumont as an important and highly original new voice in American fiction. Although he is best known today for his scripts for television and film, including several classic episodes of TheTwilight Zone, Beaumont is being rediscovered as a master of weird tales, and this, his first published collection, contains some of his best. Ranging in tone from the chilling gothic horror of "Miss Gentilbelle," where an insane mother dresses her son up as a girl and slaughters his pets, to deliciously dark humor in tales like "Open House" and "The Infernal Bouillabaisse," where murderers' plans go disastrously awry, these seventeen stories demonstrate Beaumont's remarkable talent and versatility.
Meiri upplýsingar um hljóðbókina:
Hafðu alltaf góða bók við höndina - hlustaðu og lestu hvar og hvenær sem er
Lestu og hlustaðu á eins margar bækur og þú vilt! Vistaðu bækurnar á tækið fyrir ferðalögin, hlustaðu til skiptis á aðrar bækur, veldu sögur fyrir börnin þín og finndu næstu uppáhalds bókina þína. Með Storytel ertu ávallt með heilt bókasafn í vasanum.
Prófaðu frítt í 14 daga