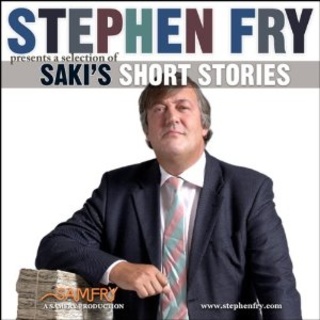 Immerse yourself in a world where the wonderful Stephen Fry reads some of the more memorable short stories of our time. A brilliant combination of reader and writer come together in these seven short stories available on digital download only.

Stephen writes "Saki remains, from a distance of a hundred years, just about the sharpest, cruellest, funniest and most elegant short story writer in our language. Hector Hugh Monro, to give him his real name, was an English writer and journalist whose life was cut short by the Great War. His stories often oppose nature and civilisation, with the more macabre elements of nature usually rising to victory. My favourite of his stories is Sredni Vashtar, as perfect a symbolic tale of the power of adolescence as is imaginable. The triumph of imagination, sexuality and life over the repressive forces of conventionality has never been more perfectly or shockingly expressed. The excellence of Tobermory, the talking cat, of The unrest Cure and the Open Window all reveal that unique blend of Wodehousian social comedy with wicked cruelty.
Saki is like a perfect martini but with absinthe stirred in…heady, delicious and dangerous. Enjoy" Stephen Fry 2009
Meiri upplýsingar um hljóðbókina:
Hafðu alltaf góða bók við höndina - hlustaðu og lestu hvar og hvenær sem er
Lestu og hlustaðu á eins margar bækur og þú vilt! Vistaðu bækurnar á tækið fyrir ferðalögin, hlustaðu til skiptis á aðrar bækur, veldu sögur fyrir börnin þín og finndu næstu uppáhalds bókina þína. Með Storytel ertu ávallt með heilt bókasafn í vasanum.
Prófaðu frítt í 14 daga