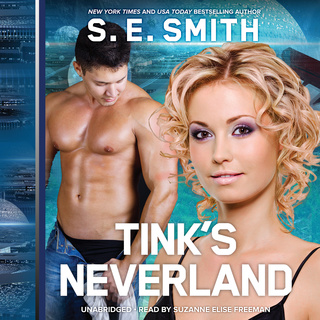 From New York Times and USA Today bestselling author S. E. Smith comes an action-adventure and suspense-filled story to transport readers out of this world.

Jasmine "Tinker" Bell has always had a love for life, looking forward to any new adventure that happens to come along. When a friend's experiment creates a portal to another world, she finds herself swept into a faraway star system she thought only existed in the movies.

J'kar 'Tag Krell Manok had given up hope of ever finding his bond mate. He is surprised when a pint-sized female unlike anything he has ever seen suddenly appears on his spaceship to save the life of his brother during an attack. When she is suddenly taken from him, he will do anything to get her back and claim her.

Two different worlds collide when Tink, a mechanic in a small college town, meets J'kar, a Prime warrior from a far-off galaxy. When Tink's life is in danger, only J'kar can save her. Now Tink has to decide if she is willing to give up everything she has ever known and loved to stay with the alien she has fallen in love with.

Will their worlds survive the collision, or will they be torn apart?
Meiri upplýsingar um hljóðbókina:
Hafðu alltaf góða bók við höndina - hlustaðu og lestu hvar og hvenær sem er
Lestu og hlustaðu á eins margar bækur og þú vilt! Vistaðu bækurnar á tækið fyrir ferðalögin, hlustaðu til skiptis á aðrar bækur, veldu sögur fyrir börnin þín og finndu næstu uppáhalds bókina þína. Með Storytel ertu ávallt með heilt bókasafn í vasanum.
Prófaðu frítt í 14 daga