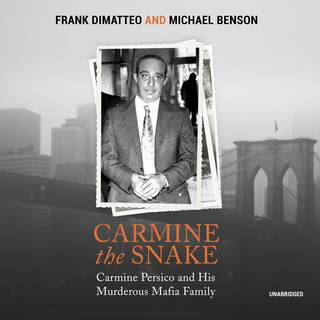 In this blistering street-level account, "Mafia survivor" Frank DiMatteo teams up with true-crime master Michael Benson to take down one of the most notorious figures in the American La Cosa Nostra. This is the real inside story of Carmine "the Snake" Persico, from his crime-filled childhood on the streets of Brooklyn to the long-term jail sentences that didn't stop him from controlling his criminal empire, with the help of his brother—the equally kill-crazy Alphonse "Allie Boy" Persico.

This is the story of his deadly teen years as leader of the fearsome Garfield Boys; his recruitment into the Profaci—later the Colombo—crime family; his bloody betrayal of the Gallo brothers; his role in the hair-raising ambush and slaying of Albert Anastasia—the Lord High Executioner of Murder, Inc.—as he sat in a barbershop chair getting a shave; the terror he struck into the hearts of the New York Mafia's other families, and even his own crews; and the many courtroom trials where Persico walked after witnesses came down with sudden cases of "amnesia."

Today, Persico schmoozes with Ponzi king Bernard Madoff behind bars. There, at age eighty-four, his legend—packed as it is with coldblooded brutality—continues to inspire goodfellas everywhere.
Meiri upplýsingar um hljóðbókina:
Hafðu alltaf góða bók við höndina - hlustaðu og lestu hvar og hvenær sem er
Lestu og hlustaðu á eins margar bækur og þú vilt! Vistaðu bækurnar á tækið fyrir ferðalögin, hlustaðu til skiptis á aðrar bækur, veldu sögur fyrir börnin þín og finndu næstu uppáhalds bókina þína. Með Storytel ertu ávallt með heilt bókasafn í vasanum.
Prófaðu frítt í 14 daga