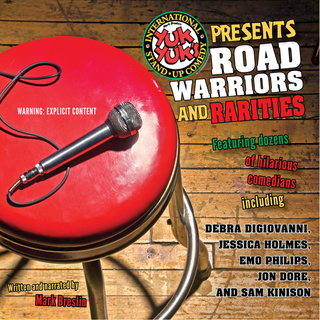 Yuk Yuk's Presents Road Warriors And Rarities
Yuk Yuk's Presents Road Warriors And Rarities
Building on the bestselling success of The Yuk Yuk's Guide to Canadian Stand-Up, this new box set will feature tremendous routines from more of Canada's most hilarious stand-up comedians such as Ron James, Scott Thompson, Jessica Holmes and Jon Dore.

The set will also feature the stand-up comics whom Mark Breslin refers to as the "road warriors," comedians who constantly criss-cross the country perfecting their craft and performing night after night in clubs from coast to coast. They may not all be household names yet, but they deliver some of the funniest material around.
Meiri upplýsingar um hljóðbókina:
Hafðu alltaf góða bók við höndina - hlustaðu og lestu hvar og hvenær sem er
Lestu og hlustaðu á eins margar bækur og þú vilt! Vistaðu bækurnar á tækið fyrir ferðalögin, hlustaðu til skiptis á aðrar bækur, veldu sögur fyrir börnin þín og finndu næstu uppáhalds bókina þína. Með Storytel ertu ávallt með heilt bókasafn í vasanum.
Prófaðu frítt í 14 daga