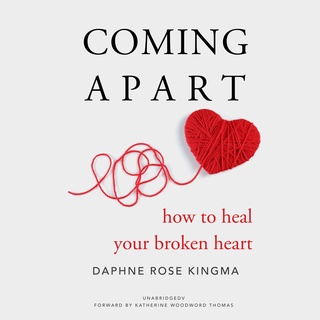 Coming Apart
Snið:
Sem hljóðbók & Sem rafbók
Coming Apart
Snið:
Sem hljóðbók & Sem rafbók
Next to the death of a loved one, the ending of a relationship is the most painful experience most people will ever go through. Coming Apart is a first aid kit for getting through the ending. It is a tool that will enable you to live through the end of your relationship with your self-esteem intact.

Originally published in 1987, and continuously in print since then, Coming Apart has been an important resource for hundreds of thousands of readers experiencing the pain and stress of a breakup. This new edition features a foreword by Katherine Woodward Thomas, author of Conscious Uncoupling.

Daphne Rose Kingma, the undisputed expert on matters of the heart, explores the critical facets of relationship breakdowns:

Love myths: why we are really in relationshipsThe life-span of loveHow to get through the endingHow to create a personal workbook for finding resolution
Time does a lot to heal our broken hearts, but really understanding what transpired in each of our relationships is what allows us to finally let go and move on.
Meiri upplýsingar um hljóðbókina:
Meiri upplýsingar um rafbókina
Hafðu alltaf góða bók við höndina - hlustaðu og lestu hvar og hvenær sem er
Lestu og hlustaðu á eins margar bækur og þú vilt! Vistaðu bækurnar á tækið fyrir ferðalögin, hlustaðu til skiptis á aðrar bækur, veldu sögur fyrir börnin þín og finndu næstu uppáhalds bókina þína. Með Storytel ertu ávallt með heilt bókasafn í vasanum.
Prófaðu frítt í 14 daga