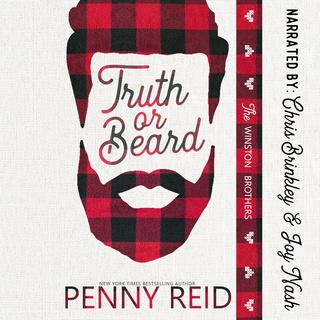 Falling for the wrong twin never felt so good …

From the NEW YORK TIMES, WALL STREET JOURNAL, & USA TODAY bestselling series.

Beards, brothers, and bikers! Oh my!

Identical twins Beau and Duane Winston might share the same devastatingly handsome face, but where Beau is outgoing and sociable, Duane is broody and reserved. This is why perpetually level-headed Jessica James has been in naïve and unhealthy infatuation with Beau Winston for most of her life. Whereas Duane and Jessica have always been adversaries. She can't stand him, and she's pretty sure he can't stand the sight of her…

But after a case of mistaken identity, Jessica finds herself in a massive confusion kerfuffle. Jessica James has spent her whole life paralyzed by the fantasy of Beau and her assumptions of Duane's disdain; therefore she's unprepared for the reality that is Duane's insatiable interest, as well as his hot hands and hot mouth and hotter looks.

When Jessica finds herself drawn to the man who was always her adversary, how much of her level-head heart is she willing to risk?

Truth or Beard is book #1 in the Winston Brothers series. Each book is a standalone, full length (110k words), contemporary romantic comedy novel, and follows the romantic exploits and adventures of one of the six Winston Brothers.
Meiri upplýsingar um hljóðbókina:
Hafðu alltaf góða bók við höndina - hlustaðu og lestu hvar og hvenær sem er
Lestu og hlustaðu á eins margar bækur og þú vilt! Vistaðu bækurnar á tækið fyrir ferðalögin, hlustaðu til skiptis á aðrar bækur, veldu sögur fyrir börnin þín og finndu næstu uppáhalds bókina þína. Með Storytel ertu ávallt með heilt bókasafn í vasanum.
Prófaðu frítt í 14 daga