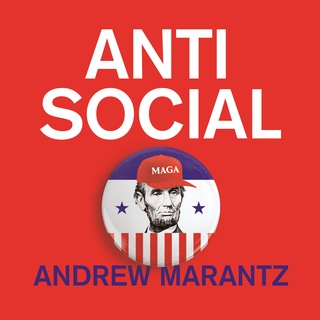 Antisocial: How Online Extremists Broke America
Antisocial: How Online Extremists Broke America
'An absorbing study of online propaganda and its threat to democracy' Guardian, Book of the Day.

This is a story about how the extreme became mainstream. It reveals how the truth became 'fake news', how fringe ideas spread, and how a candidate many dismissed as a joke was propelled to the presidency by the dark side of the internet.

For several years, Andrew Marantz, a New Yorker staff writer, has been embedded with alt-right propagandists, who have become experts at using social media to advance their corrosive agenda. He also spent time with the social-media entrepreneurs who made this possible, through their naive and reckless ambition, by disrupting all of the traditional information systems.

Join Marantz as some of the biggest brains in Silicon Valley teach him how to make content go viral; as he hangs out with the conspiracists, white supremacists and nihilist trolls using these ideas to make their memes, blogs and podcasts incredibly successful; and as he meets some of the people led down the rabbit hole of online radicalization.

Antisocial is about how the unthinkable becomes thinkable, and then becomes reality. By telling the story of the people who hijacked the American conversation, Antisocial will help you understand the world they have created, in which we all now live.
Meiri upplýsingar um hljóðbókina:
Hafðu alltaf góða bók við höndina - hlustaðu og lestu hvar og hvenær sem er
Lestu og hlustaðu á eins margar bækur og þú vilt! Vistaðu bækurnar á tækið fyrir ferðalögin, hlustaðu til skiptis á aðrar bækur, veldu sögur fyrir börnin þín og finndu næstu uppáhalds bókina þína. Með Storytel ertu ávallt með heilt bókasafn í vasanum.
Prófaðu frítt í 14 daga