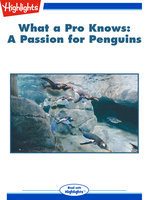 What a Pro Knows: Amy Graves: A Passion for Penguins
2.5
4
5
Höfundur:

Mary Paulson
Sem rafbók.
Learn about a day in the life of an aviculturist (someone who works with birds) at the Tennessee Aquarium.
Tungumál: enska
Flokkur:

Barnabækur
Þýðandi:
Hafðu alltaf góða bók við höndina - hlustaðu og lestu hvar og hvenær sem er
Lestu og hlustaðu á eins margar bækur og þú vilt! Vistaðu bækurnar á tækið fyrir ferðalögin, hlustaðu til skiptis á aðrar bækur, veldu sögur fyrir börnin þín og finndu næstu uppáhalds bókina þína. Með Storytel ertu ávallt með heilt bókasafn í vasanum.
Prófaðu frítt í 14 daga