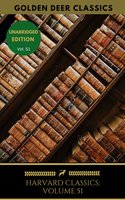 Harvard Classics Volume 51
2,44
9
5
Höfundur:

Golden Deer Classics, Robert Matteson Johnston, William Scott Ferguson, Murray Anthony Potter, Frederick Jackson Turner, Carleton Noyes, Charles Burton Gulick, Charles Hall Grandgent, Ernest Bernbaum, Lawrence J. Henderson, W. M. Davis, Ralph Barton Perry, Charles Pomeroy Parker, Chester Noyes Greenough, William Roscoe Thayer, W. S. Ferguson, Chandler Rathfon Post, O. M. W. Sprague, W. A. Neilson, F. N. Robinson, G. H. Maynadier, J. D. M. Ford, Bliss Perry, H. W. Holmes, Frank Wilson Cheney Hersey, A. O. Norton, Thomas Nixon Carver, Charles J. Bullock, W. B. Munro, Roscoe Pound, George Pierce Baker, Kuno Francke, R. B. Dixon, George H. Chase, C. R. Lanman, Alfred Dwight Sheffield, Clifford Herschel Moore, C. H. C. Wright
Rafbók.
Volume 51 contains a total of 60 lectures covering 12 topics:
History
Poetry
Natural Science
Philosophy
Biography
Prose Fiction
Criticism and the Essay
Education
Political Science
Drama
Voyages and Travels
Religion
Tungumál: enska
Flokkur:

Klassískar bókmenntir
Þýðandi:
Meiri upplýsingar um rafbókina
Útgefandi: Oregan Publishing
Útgefið: 2017-09-03
ISBN: 9782377934423
Hafðu alltaf góða bók við höndina - hlustaðu og lestu hvar og hvenær sem er
Lestu og hlustaðu á eins margar bækur og þú vilt! Vistaðu bækurnar á tækið fyrir ferðalögin, hlustaðu til skiptis á aðrar bækur, veldu sögur fyrir börnin þín og finndu næstu uppáhalds bókina þína. Með Storytel ertu ávallt með heilt bókasafn í vasanum.
Prófaðu frítt í 7 daga